After all these months, this post is hard to write. Not because there isn't anything to say, but because there are
SO MANY THINGS
I'd love to share with you about the remodel! So, (taking a deep yoga breath) I'll start at the beginning (if I can accurately remember back that far).
Once more, let's look at the kitchen before the remodel...
The area behind the chandelier and above the stove, not visible in the preceding picture.
THE FIRST STEP
: Come Up With A Plan, without going into all of those details here, you can read about it and see the drawings
here.
THE SECOND STEP:
Get tradesmen lined up. All I will say here is get yourself some buckets of PATIENCE and then find a friend(s) who will listen to you whine about them! One trade goes off schedule and the whole project is delayed.
NEXT: Start selecting materials.
My first selections was going to be my countertop. And, so I danced around granite yards for at least a month, trying to find white granite in a quiet pattern (because I really wanted white marble, but not the upkeep). I had planned to use the existing backsplash but decided at the last possible moment, the backsplash needed to change too. This was a major panic for me because I like to look at absolutely everything on the market before making an informed decision, but I knew I wanted marble (the real deal) so that narrowed it down a bit. I got a lot of pressure to go with subway tiles, but that was what I was replacing. I am so glad I listened to myself at this point and chose a hex mosaic for the backsplash.
WORDS OF WISDOM: ALWAYS, ALWAYS, LISTEN TO YOURSELF ABOUT YOUR SELECTIONS. IT IS VERY EASY TO GET OFF TRACK WITHOUT A FIRM PLAN IN YOUR MIND BEFORE YOU BEGIN. CONTRACTORS, SALES PEOPLE AND OTHERS WILL TRY TO TALK YOU OUT OF YOUR PLAN. YOU HAVE TO KNOW WHEN TO TAKE ADVICE AND WHEN NOT TO.
Here's a closeup of the backsplash...
The countertops are polished 3cm Ceasarstone in Frosty Carrina. It looks like a very faint marble veining pattern. It is stronger than granite (which I have on the island from my last remodel) and doesn't stain or react to acids and oils the way real marble does. Very important details if you cook in your kitchen!
Here is a closeup of the countertop...very hard to see the details in a picture.
I went with the most reputable company in town for fabrication of my countertops and it was a very wise decision. After my installation, my countertop was chipped and scratched! My stomach was in knots for days! Three visits from the installer later, everything was perfect and still is! Yeah!
Some of the other details added...
The microwave was moved from above the stove a few years ago and it sat on my countertop in a hidden spot for a long time. With the remodel the microwave and it's electrical circuit were moved here and additional lighting was added inside the cabinet. The microwave is totally hidden when the doors are closed, but is readily accessible too.
New painted cabinets with glass and lights were then added to the top of existing cabinets and the kitchen went from this...
To this...
And this...

And this...
These cabinets were taken down to the countertop also.
Continuing around the room...
And the last addition to the kitchen is a floor to ceiling platter rack...
A few other things added...
That arrow is pointing to the disposal button (sorry I didn't wipe out those new stainless steel sinks). The existing faucet wasn't replaced.
Over-the-sink lights were replaced with LEDs so the lighting throughout the kitchen would be the same.
The cabinets (oil) and walls(latex) were painted SW 7005 Pure White.
Thanks for being interested in my biggest project to-date. In this project, my 20-year old vision became reality and it was a thrill ride!
Linking Up With
Savvy Southern Style
Green Willow Pond
I was featured here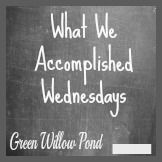 A Stroll Thru Life
Dwellings
Coastal Charm
Cedar Hill Farmhouse
Sand & Sisal